The Best Breakdown Cover from GEM Motoring Assist
At GEM Motoring Assist, we've been keeping our members on the move since 1932 and we are proud that, over the years, we have been recognised for the breakdown recovery service that we provide.
| | | |
| --- | --- | --- |
| We're Highly Commended in the Personal Finance Awards! | | |
GEM Motoring Assist has been highly commended for Best Breakdown Cover in the Personal Finance Awards 2022 and it's all thanks to members like you!
At GEM we are more than just another breakdown provider… from the moment you get your breakdown cover quote to the moment you need our roadside assistance, we are putting our highly-recommended service and expertise into practice. And so we are delighted when our efforts to provide the very best service for our members are recognised.
So what makes GEM different?
As a breakdown provider, 'Who is the best breakdown recovery service?' is a question we regularly see being asked. Often the resulting debate will focus on the more well-known breakdown service providers, such as the AA or RAC, and doesn't always consider the other companies that offer a breakdown recovery service, including GEM Motoring Assist. However there are many reasons to consider GEM…
We've been around a long time
Established in 1932, we've been looking after our members for 90 years. We don't just provide car breakdown cover… our founding road safety mission remains at the heart of everything we do and we still pride ourselves on going the extra mile to look after our members and keep them safe on the roads. Read The GEM Story.
We're cheaper than similar breakdown cover providers
When you compare our policies with similar ones, you'll find we're cheaper than other car breakdown cover providers like the AA and RAC, so it is worth comparing cover and prices when you are looking for a breakdown cover quote.
Exceptional breakdown cover from GEM
We introduced our own independent, comprehensive breakdown recovery service over 40 years ago. GEM have since been recognised as multi-award winners for roadside assistance and have consistently been placed in the Top 3 of the best breakdown cover providers in the Auto Express Driver Power Survey, coming first place 9 times.
GEM Motoring Assist Breakdown Cover has a Defaqto 5 Star Rating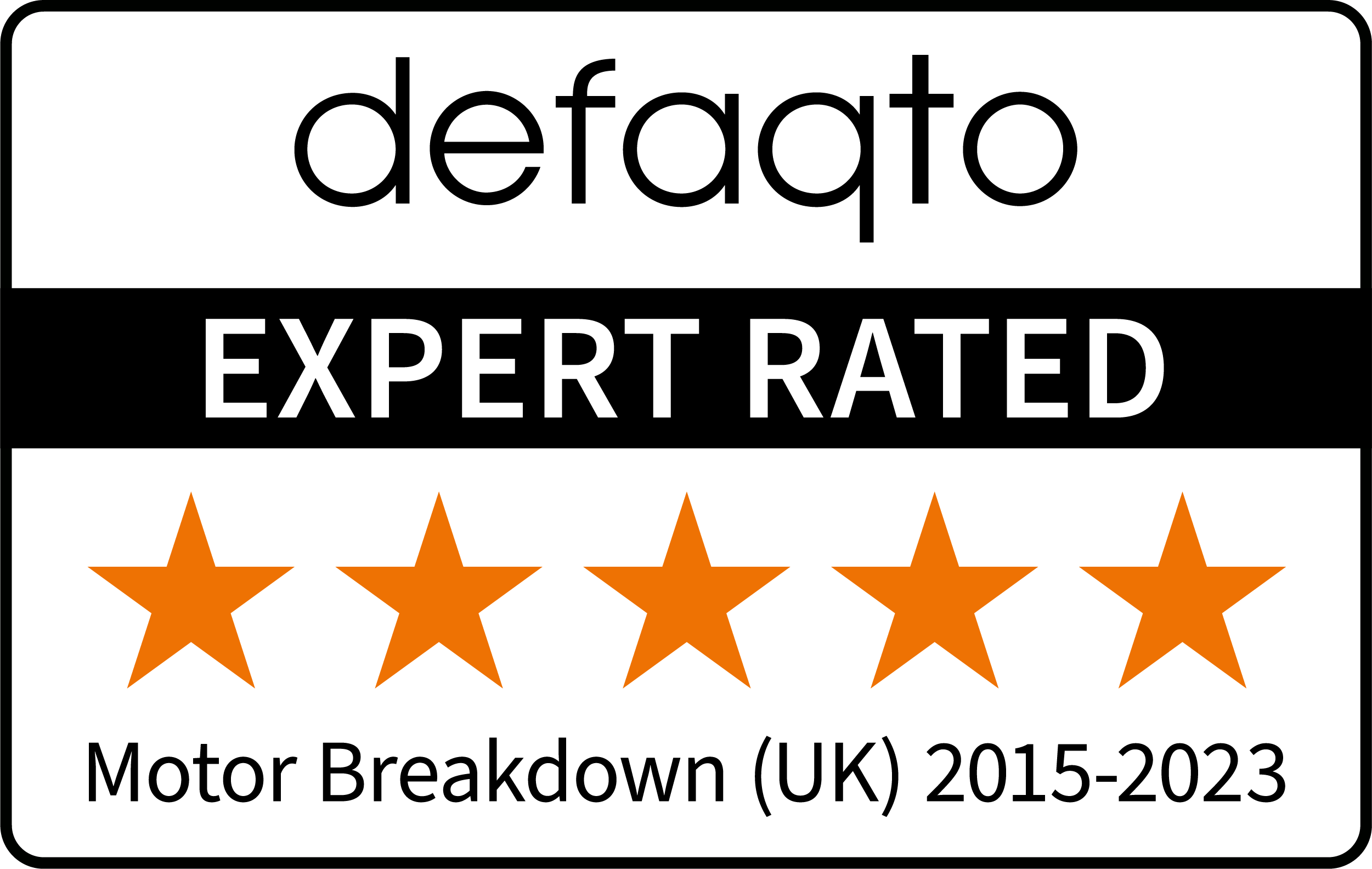 GEM Motoring Assist has received a Defaqto 5 Star Rating for its car breakdown cover, which means it provides one of the most comprehensive policies in the market.
What do Defaqto do?
Defaqto's team of experts analyse every motor breakdown policy and breakdown service provider on the market.
Its unbiased product information, provided as Star Ratings, helps consumers, financial institutions and financial advisers make better informed decisions.
For over 25 years, Defaqto's experts have been collecting up-to-date information on thousands of financial products. By researching and analysing every product on the market, they've created an easy and reliable way to compare them using Defaqto Star Ratings.
What do Defaqto stars mean?
Defaqto Star Ratings indicate where a product sits in the market in terms of the features and benefits it offers, so if you are looking for the best breakdown cover, be sure to check what Defaqto star rating has been awarded.
Defaqto rate every product on the market, on a scale of 1 to 5 stars.
1 Star – A basic product, with a low level of features and benefits.
2 Star – A product typically offering a below average range of features and benefits.
3 Star – A standard product providing an average level of features and benefits.
4 Star – A product with a good level of features and benefits.
5 Star – An excellent product with a comprehensive range of features and benefits.
Defaqto rates the product or policy, not the insurance provider. The ratings are analysed daily and updated to reflect any product or policy changes.
For more information on Defaqto Star Ratings visit the Defaqto website.
We are highly recommended by our members
Member feedback is really important to us. Not only do we care about what you think but others do too!
We strive to look after our members with compassion, whenever they need us, and we are proud to be highly recommended on review sites by members who have experienced our member service and breakdown recovery service.
We have an average of 4.5 out of 5 stars for our online reviews on Trust Pilot, Reviews.io, Review Centre and Google.